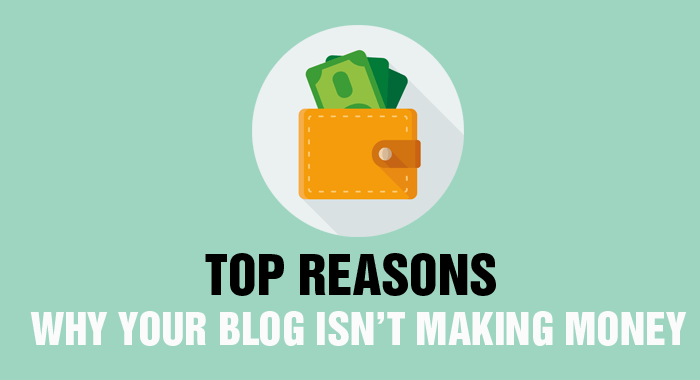 Do you often ask this question to yourself that "It has been a while I am blogging but still there isn't profit or sale"?
Well, that's one of the most common mistakes done by the New Bloggers!
Do you want to know, Why?
There can be a lot of possible reasons for this question. They depend upon how well you are going, what your business or niche is and a lot more.
Do you care your blog has reader or comments? Or you just want traffic and Money?
Do you engage your readers to read your blog or do you have Direct Contact with them? These are some minor or major mistakes made by bloggers!
Here Are Some Possible Reasons Why Your Blog Isn't Making Money:
Reason #1. You niche has a lot of competition or there isn't any requirement for it
Most of the niches like Health and Tech have a lot of competition, More Requirement means more blog that's why it could be a possible reason why there isn't any sale of your affiliated link and ads. The more blogs will be there, the more crowd will be there, which means that It might be hard for people to reach your site.
One more reason could be that there are hardly 10k people in search of your niches like toy star or star war kid.
The people on the Internet like those posts which may help them and solve their problems like Car care, Personal Health, etc.
More competition means more hardworking to get your blog on the top list or Popular among the masses.
Tip: Try to find a niche with a medium competition like Car Care, Bike Advice, Personal Finance.
Reason #2. SEO
SEO, Search Engine Optimization is the most important factor which affects traffic and off course! Traffic effects earning. It means that if your blog is not SEO optimized then your articles and Website are hard to find.
For Example: Let's say your site's heading is: My Blog, and there you post Bike care tips without proper headline or content. Then, there's no mean how much your articles are helpful. Ok, think you are the visitor looking for Bike Tips what you will search for Bike maintenance tip or My Blog tells me to clean bike?
Understood? You can search for it further to know more! Because I know you are looking for solutions to your problem and don't want to read long definitions and Meaning, but Make sure to search more about it!
Reason #3. Your Articles are not helping them
Visitors will leave your site immediately if they found your site unuseful. I mean, you are not posting unique ideas or Articles. The reason could be you are stealing someone's article? Not fully but Partially? You may be using someone else ideas which are already on the Internet! So, When you will not show your visitors that you have something special for them they will not believe you or read your articles.
No one wants to read the same article or ideas again and again! Would you even?
And, maybe you are posting something like "Top Bad Songs". There's no market for that! There are only a few people who are interested in this type of Articles or Videos.
Tip: Try to Give your Visitor something new and Original
Reason #4. Your Marketing Strategy
Your marketing affects a lot! Think about it: You are a blogger, not a Marketer
Starting a Successful blog also requires hard work and business sense.
You must have a Direct Approach with Your Visitors. One of the best ways to do this is Building an Email List – Don't Beg your Visitor to Subscribe! Always have an About Page for your Blog, It gives the Users the opportunity to know more about you and Your Blog
Remember: One Loyal Visitor is equal to 500 normal visitors
Tip: Try to Decrease your blog's Bounce Rate
Reason #5. You don't know where you are going!
You must focus on your work, Know where you are going. Most of the New Bloggers just want some quick cash! Remember, Blogging is not rocket science. Some of them just buy a Host (off course! Domain too), Select a free theme and Start Writing. Well, that's a very big issue faced by new Blogger, they are over-excited.
Choose a Niche and be on it! Always listen to your ideas and do something Original.
Are you running a multi-niche site? That could be a great problem If you! It always affects your SEO and earning especially Ad such as Adsense. Think that you are running a Web Hosting Company, where would you like to receive ad traffic from a multi-niche site which post about Dog Care, Making a Blog, How to have fun and more or a Blog which talks about Starting a Blog? Additionally, if you want to learn SEO, which site you subscribe to – a site with categories like Car Care, Dog Care, SEO, health or Site with categories like SEO, Web Hosting, and Domain?
Hint: Think twice about it!
Reason #6. You are not Doing It well
As I already mentioned that there can be several reasons why your blog isn't making any money, If you think that I have followed all the above Steps and Reasons but still there no earning, You might be doing something wrong. You still need hard work and devotion to your work.
Some of the Other reasons are:
You might not be able to Impress Your Readers
You might not have monetized your blog correctly
You don't have a sense of BUSINESS
Tip:  Give your reader other helpful Links, It can be to your own site or someone else!
Reason #7. Traffic
Traffic = Money
The question may be wrong you ask yourself – "Why My blog makes no money!" You must ask "Why my blog has no traffic"
Traffic simply means how many people visit your site. Are You maybe shooting arrows in a desert? – Doing something with no demand!
Some more reasons why your Blog has no Traffic:
Your Content isn't original, Great or Helpful
You don't have defined audience – Try to focus which type of visitors you want
Your SITE IS NOT SEO OPTIMIZED
Your Content Sucks!
Some Tips:
Give them what they want not what you want
Do email list building
Try to offer some freebies – People Like Freebies such as free Ebooks
Make the most of you
Now it's your Turn,  Got the solution?
Hint: Be a Good Reader!
Did you find the solutions to these reasons in the above post itself? Not? You might be thinking that I must do a fast scroll down and Jump to Solutions Section! Well, the solutions are in the reasons itself, Read the post again if you didn't get it! That's why being a good reader and listener is more important than being a Writer!