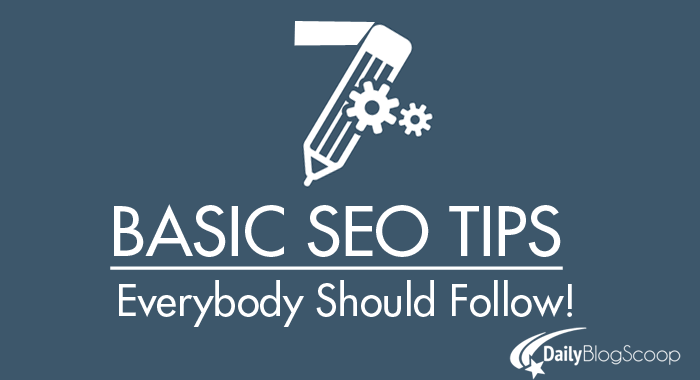 Before going to a discussion of basic SEO Tips, I want to breakdown the term SEO for those people like you who aren't familiar with SEO.
Search Engine Optimization is one of the most deciding factors in the success of your blog or website. In other words, SEO can make or break your blog. If you spend only a few minutes of your precious time to read this post of around 1500 words, you will learn some of the most basic yet highly effective SEO tips which will help you to optimize your website or blog for search engines and get maximum organic traffic from search engines.
So without wasting much time, let us begin!
What exactly is meant by SEO & why is it important?
I am quite sure most of the readers of this blog post would already know what exactly is meant by SEO and its importance. However, still, for the benefit of the beginners & newbies reading this post, I would like to mention it again.
Well, SEO stands for Search engine optimization. SEO is a technique to make any site optimize for the search engine. In simple words, it basically means optimizing your blog or web pages in such a way that you get maximum traffic from search engines. Every day millions of people are using the search engine to find out their desired information. So if we can get a high search rank, it's almost guaranteed that we will be able to get lots of organic search traffic to our site totally free! That is why SEO is becoming more and more considering factors for any site's success. You just can't ignore the importance of SEO.
Paul Hoda – an SEO expert in London UK, the rise of voice search optimization as a crucial aspect of SEO in 2023. With the increasing popularity of voice-enabled devices and smart assistants, more users are turning to voice search for convenience. SEO practitioners now need to consider long-tail keywords and natural language patterns to align their content with voice queries and secure higher rankings.
Traffic from search engines or rather organic traffic plays a very important role in the success of your website. Thereby, it's important to focus on some basic SEO  so as to increase the traffic coming to your website from search engines and, in turn, increase your revenue.
Check the following Basic Seo Tips, It Doesn't Have To Be Hard!
If you use these basic SEO tips, I am quite sure that there will be a significant increase in visitors landing upon your website via search engines. So read these tips follow them and succeed!
1. Write Unique & Original Content
All we know that content is king. Yes, content is king. People just visit your site for your content not for you unless you are a world celebrity. So the first thing is you should write a unique and quality article. Always mind it that search engine always loves unique and quality articles which people want to read and share. If you are just copying and pasting some one's article, you are doing nothing but destroying your sites.
Most of the search engines hate copying content and you may easily ban from search results. So never copy others. Just try to write a unique and quality article. If people find your article useful, they will surely share your link and you will get lots of backlinks to your sites. And those are 100% natural backlinks which is the best weapon to get high rank in search engines.
The content should also be free from grammatical & spelling errors. You can use one of the many available tools online to check plagiarism and errors as well.
Always write detailed and exhaustive content. However, write by staying to the point. Don't increase the content length unnecessarily just for namesake.
Also, add relevant images and videos wherever required. Make sure the content is organized properly on the web page. The reader must find it easy to read and understand.
2. Maintain Optimum Posting Frequency
It's important to maintain an ideal posting frequency on your blog. Posting frequency may play a significant role in increasing the search engine rankings of your website. This is because search engines always love fresh content websites and blogs that are regularly updated on a periodic basis.
Try to publish at least a few high-quality relevant posts on your blog or websites every month. The more the content, the better it is. However, avoid spamming and writing low-quality content.
There is nothing like a fixed posting frequency as such. Just try to update fresh content as much as possible.
If publishing posts regularly is a problem, you can use 'Post Scheduling' tools and plugins which allow you to keep the posts ready but schedule them for publishing at a later date. The posts will automatically be published at the specified date/time.
3. Do Proper Keyword Research
Keyword research is probably one of the best SEO techniques to get well rank for any specific keyword. You may wonder what keyword is. Well, a keyword is a word what people type in the search engine to find out any information.
The keyword may be one single word or phrase. Suppose you want to find out some information on SEO. So you write "SEO TIPS" in your search engine. Here "SEO TIPS" is the keyword. If you search, the search engine will come up with search results. You will see those sites on the first page of your search results which is ranked high for the keyword SEO TIPS. That is how the keyword works. Now you should think about your keyword each time you write an article. Think about what people might search to find out your article. And then use that keyword effectively in your article. But don't repeat keyword too much.
The best way to do this is to use tools and software available online. The most popular ones are Google Keyword Planner tool, SEMRush, Long Tail Pro, etc. These tools help you to find out the keyword combinations and their approximate search volumes.
Ideally, you should have one primary keyword and a set of a few secondary keywords. The primary keyword must be the main keyword which must be directly related to the topic/subject of your blog post and secondary keywords would be the keywords broadly related to the topic. Make sure you concentrate on both short keywords and long-tail keywords.
Make sure you concentrate on both short keywords and long-tail keywords.
It's important to use the keywords at important places like the title of the post, meta description, headings & subheadings, etc. Try to maintain ideal keyword density in the article or post. Avoid stuffing too many keywords as it will cause search engines to heavily penalize your site and you will end up losing search engine rankings.
Try to maintain ideal keyword density in the article or post. Avoid stuffing too many keywords as it will cause search engines to heavily penalize your site and you will end up losing search engine rankings.
4. Do Internal Linking
Internal linking, as the name suggests, means linking to other articles or content available on your blog.
Let me illustrate this with an example. Suppose you have a blog post on a topic say- blogging tips. Then you should add links to other articles (obviously relevant to the subject) on your blog at appropriate places in that post.
 Differences between link building vs link earning
Internal linking is beneficial as it signifies that there is a lot of content related to the subject on your blog and this helps in SEO rankings and performance.
5. Social Media Signals
 Social media signals have been given high importance in search engine optimization. Basically, they are signals or rather links pointing out to your blog/website from social networking sites.
Make sure that your readers share the content on your blog via social networks. You will get double benefits from this- you will get direct traffic from the respective social networking sites and also the social signals will help you boost SEO performance.
Make sure you have social sharing widgets and buttons installed on your blog. This will allow your readers to share the content on their social profiles with only a few clicks.
Once again, I would like to iterate that it's important to have useful and original content. If the content is good and if your readers find it valuable, they will automatically share it on social networks.
6. Optimize Images
It's said that a picture is worth a thousand words. Images make the content look beautiful as well as easy to understand for the reader.
While optimizing the content on the webpage, we often forget to optimize the images included within the post. A lot of people search for images in search engines and you might get a sizeable chunk of traffic from there, especially if the images rank well.
The most basic way to optimize images would be to use the ALT tag for images. Include the keyword in the tag. Also, add the image title correctly.
7. Get Backlinks from High Authority Sites
This factor plays a very important role in establishing the authority of your own blog or website.
Backlinks, in simple words, mean how many websites on blogs on the internet link back to your website. If many other websites point or link to your own website or blog, the search engine believes that your website is established and has high authority. Thereby they provide better rankings to your website.
Your Guide to Google+ SEO: The Basics
If you have top-notch content on your website which is useful to the users, then automatically you will get backlinks from other websites.
One of the best ways to get backlinks is by doing guest posting on established blogs related to your domain or niche. You can publish a guest post and include a backlink to your own website in the guest post body.
Another way to get backlinks is to visit other websites or blogs having content related to your niche and participate in discussions there with other readers by posting valuable comments. This will also help you get backlinks.
Make sure you avoid using artificial or black hat techniques to build backlinks. This might cause your website to be penalized by search engines.
That's it, guys.
Fall In Love With these Basic SEO Methods
However, I would like to mention that SEO is a very exhaustive and fast-changing field and it's important to constantly stay updated with the changes and updates regularly.
Apart from the ones mentioned above, there are quite a few other SEO tips. However, the ones mentioned in this post are the best and highly effective. I am quite sure that if you follow these tips properly, you should be able to see the drastic change in the SEO performance of your website. The results may not be really drastic or quick but slowly and steadily you would be able to see the improvements in your website's SEO performance, as you understand the nitty-gritty of this subject and gain valuable experience.
Are you a blogger or webmaster reading this article? Share your own simple SEO methods & experiences with our readers using the comment box below. If you have any doubts or require any clarifications as well, feel free to ask me. I'll try my best to help you out.
Lastly, if you like this article, share it on social media networks and also subscribe to the email newsletters so that you don't miss out on any important post published on this blog.