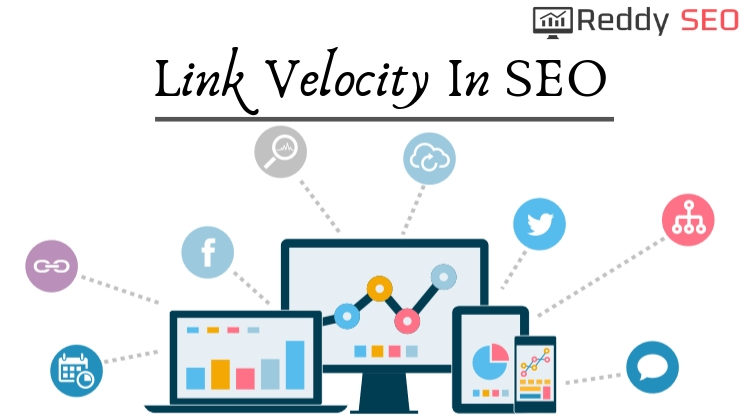 There is conflict happening between search engines and search marketers. Search engines are alternately updating their algorithm and also database, and that's why there is changing on search result pages to provide better results to users and as manipulating their work in line with search engines update to realize prime rankings in SERP. But this fight has one thing to try and do with Link Velocity.
When we start making backlinks, the first question comes to mind is "How will it affect the SEO of a site" and "How many backlinks should I make daily".
Building backlinks for SEO is a necessary step and you have to take care that at which rate are you making Backlinks.
Link Velocity is an important task for those bloggers or marketers who are insecure about their backlink profile.
It's the increasing amount of backlinks you build to your site over a period of time. It must keep increasing so Google will detect the increased importance of your website and rank you high.
What Is Link Velocity?
First I need to introduce What is Link Velocity.
If you know what is meant by velocity then you can relate it, Velocity – simple means speed.
Link velocity is the rate at which others are linking back to your site.
It doesn't matter how many backlinks your site has, a search engine will not rank you for the number of backlinks you have, the concern is about How many quality backlinks you have. The number of quality backlinks matter and they will help you to rank higher.
However, link velocity is one of the SEO metrics that you should track.
How To Increase Link Velocity (Effective Ways)
Here, I am going to mention some ways by which you effectively increase the link velocity. Link velocity mainly emphasizes on Off-page SEO.
Always try to make backlinks from domains or sites having good PA and DA.
Trust high authority websites
Do not over-optimize your Off-page SEO
Do link velocity weekly, not daily
Understand your site with the SiteAudit tool.
Strictly avoid low quality and spam sites
Build strong ON page SEO factors.
Use high PR Networks for better conversion.
Try to give out high-quality content
Try to get do-follow backlinks
Terms You Should Know While Focusing On Link Velocity
Link Juice
Dofollow links
Nofollow links
Link Juice
When any of your website's page or article is linked to the other webpages (Backlink) then it passes the Link Juice. This link juice helps your article or page to rank better. As a blogger, you can stop passing link juice by using the nofollow tag.
Nofollow Link
When backlinks are used with the nofollow tag they do not pass the link juice and hence they are of no use as they do not contribute to the ranking and those backlinks are called Nofollow links. Like when you post your article or website link on Facebook they don't help you in ranking as they contain the nofollow tag.
Do-follow Link
Those links which pass the link juice are known as Do-follow links and by default, all links are Do-follow links.
What Is Optimal Link Velocity?
Have you ever think that if your site has lots of backlinks without any content or posts. It doesn't sound good, Is it?
As per the Google, backlinks should come naturally with the content, and that's quite hard if you are a newbie blogger or your blog is not much popular, usually, people do backlink exchange.
The ranking is something that is directly proportional to the number of backlinks you have.
Now coming to optimal link velocity,
What if you got 2-backlinks today, 20-tomorrow and then next day 5. This is what Google doesn't want from any site. And it is not optimal link velocity.
If the graph of link building is an increasing function, means you are getting 3-Backlinks on the first day, 5-backlinks on the second day, 8-backlinks om third day and so on, this is called optimal link velocity, and this is what Google wants from you and that will help you in the ranking.
Positive Link Velocity:  It is the measurement of the number of backlinks that are effectively indexed in a given or specific period of time.
Negative Link Velocity:  It is the number of links that are not indexed in a specific period of time.
How To Build Organic Backlinks Effectively?
As I have already discussed link velocity, now I am going to share how you can build backlinks effectively.
High authority backlinks that you generate using link authority are organic backlinks and they are unique backlinks too, which means that your site is not only getting the organic traffic but at the same time, your site is gaining Quality link juice too which is an important factor for DA (Domain authority)
What Is Good Link Velocity For New Sites?
Getting niche quality backlinks proportional to the amount of content that you have on your site or blog is essential.
Growing your backs organically, ie. First month – 10 backlinks, the second month – 18 backlinks, the third month – 30 backlinks, the fourth month – 60 backlinks so on.
Drip-feeding links are the ones that are inspired by optimal link velocity that should be maintained for SEO.
If you are delivering high-quality content, along with some infographics content. It helps you to build backlinks continually over time. Link velocity is not the one that you need to concentrate on. Focusing on simple link building strategies like blogging comments, guest post, and forum blogging. Creates high-quality content and maintaining the authority link building velocity systemically. 
What About Viral, News Content?
Viral content receives tons of traffic and backlinks only for a short period. Same as in the case of an event blog.
Some of the search terms in Google are marked as seasonal or they are marked as viral keywords. An example for seasonal keywords is "Christmas Greetings".
You can use Google Trends to hunt for the keywords that are viral and seasonal.
Google knows that content targeting this sort of content gets tons of backlinks in a short span. The moment, that content stops getting those backlinks, Google declares that the virality is over. The ranking of that content falls down. It's nothing wrong with that.
Nevertheless, that's not the case if you are targeting evergreen keywords, which have an evergreen ideal interest.
It's also the same for news websites. The moment they cover news FIRST, their backlink profile spikes. That's normal for all the sites listed in Google News.
Inspired By Link Velocity
Drip-feeding links are the ones that are inspired by optimal link velocity that should be maintained for SEO. These sorts of services rendered automated programs to build backlinks to your site constantly over a predefined period.
The links built by these programs are often low quality. It does increase the rankings of your blog, but it limits the extent to which your blog can be grown forever! That hurts…
Drip-feeding link services are not recommended by me and are not suitable if you are trying to dominate Google SERPs in your niche.
Conclusion:
Link velocity is an essential thing which you must know in order to grow your site or business if you want to make the online presence of you or your business, blog, and website, then you must know about Link velocity. Link velocity is one of the major factors considered by Google and other search engine algorithms to rank the sites.
So keep focusing on Link velocity, keep building links. Please let us know your views and do comment below if you have any issues regarding this post or any issue while building backlinks for your site.