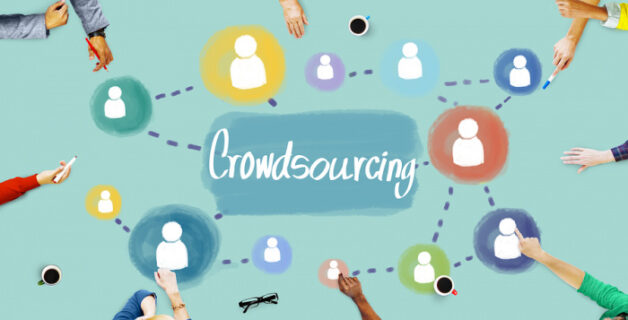 Are you one of those who are tired of seeing all the money-making ideas you find online? Money making moms, money-making housewives, how to be a millionaire, billionaire and so on to name a few. As a matter of fact, one cannot suspend or even doubt the idea of making money online. There are more than a few ways to genuinely make money online. Probably, the promise of becoming rich quickly could be a false one. Just like any physical or offline work, the idea of 'no pain, no gain' works in the case of online money making as well. Among the many genuine ways of making money online, crowdsourcing is an effective one.
What is it?
Crowdsourcing is the idea of outsourcing work to people with certain qualifications to come with solutions via an open call. This concept brings people with specific skills together so that they can contribute to relevant ideas or solve complex problems.
Let's take the example of designing a logo to understand the concept better. In case a client is in need of a professional logo with specific conditions to apply on his business website, the concept of crowdsourcing comes into play here. This client is now able to find a place where he can rely on to look for individuals who are specialized in the work he allots. This group of people, he segregates among a mass community. The task can be achieved without the pain of having to search for specific individuals or making high payments to services to hire them.
How it works?
Most crowdsourcing websites have the same set of rules and regulations or maybe slightly different from each other. With a minimum investment of time and money, a client will be able to talk to the world on what he wants and hire the best or the most appropriate individuals based on the work skills, experience, and payment expectations. As a client, you can choose between thousands of individuals with creative ideas or select them based on their previous work. The contest holder (the client in this case) will be able to choose the winner or winners (the most appropriate individual or individuals) and assign the task.
Client Responsibilities
A client or the contest holder will be responsible for conducting this online event. Everything from posting the task, describing it properly, assigning deadlines, giving feedback and making sure the payment is done properly is taken over by the client. The client can decide on the amount to be paid prior to announcing his project and select his choice of individuals.
Job Takers         
As a job seeker, it is an individual's responsibility to carefully go through and understand all the criteria, expectations and the minor details set by the client. This will give an idea of what he exactly has in mind. Unless the client requires it, do not go by assumptions or your own creativity. Make sure you are clear about what's required. Most clients would be happy to clear your doubts and queries. Think of what you are capable of rather than thinking from the money point of view. Choosing the one that is passionate to you will work better than one that has the best reward. If you have different designs (in this case) that you have already worked on, it would not be a bad idea to send them to your client and ask him if that is the pattern he prefers. Doing this will also please your client as it will show him how committed you are. Remember, when this work is done well, the same client will come back to you with his next assignment.
The unique advantages of Crowdsourcing
Another big advantage of finding the right project for you through crowdsourcing websites is the fact that your earnings are never restricted. There is the whole world to show your talent. At the same time, keep in mind that you are competing with the whole world. And so, the competition is always high. You need to be up to the mark to really make it big. You are welcome to join any contests assigned on the job board. You are not going to be judged by your physical appearance, race, sex, religion or anything else for that matter. Your smartness is what counts here.
Crowdsourcing is definitely the most reliable online source for making money. If you are smart, you will make big money.
Some Useful Resources:
A Guide to Open Innovation and Crowdsourcing: Advice From Leading Experts
Crowdsourcing: Why the Power of the Crowd Is Driving the Future of Business
Getting Results From Crowds: The definitive guide to using crowdsourcing to grow your business