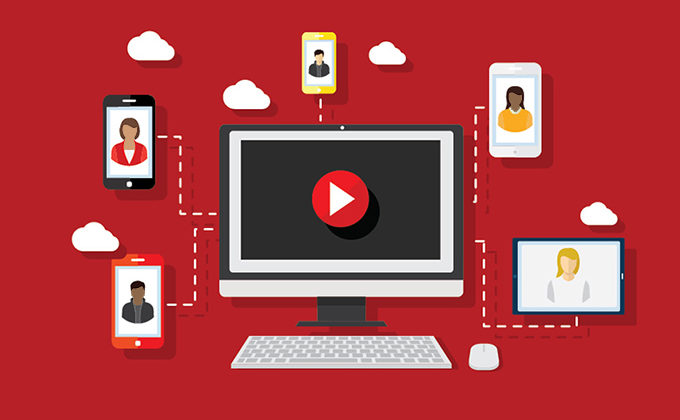 Your blog is smart, clever, and compelling, but it's missing something. If you don't have a good video on your blog – or at the very least links to good video – there's a gaping hole where killer content could be.
There is simply nothing in the world that draws people in and keeps them coming back like awesome video. If you're not convinced, just ask yourself how many text posts have gone viral. Add depth and credibility to your blog with a great video (or better yet, a recurring series of great videos) and then take the steps to make it count.
Add depth and credibility to your blog with video.
Go With the (Semi) Pros
When the video is good, it can be unbelievably compelling. When it's bad – which so much of it is – it's embarrassingly, cringe-inducingly bad. The reason so much bad video exists is because it takes skill, talent, experience, and expensive equipment to do it right.
You're a blogger. Chances are you don't have those things, and hiring a crew that does take the money you don't have. Recruit film students. They're young, ambitious, and passionate, and they need the practice and will probably be willing to do a shoot in exchange for little more than the addition to their portfolio. Call the audio/video departments of your local colleges, universities, and trade schools; put ads on Craigslist, and poke around on message boards and forums to find someone who can help you make a great video.
Remember: No video is better than bad video.
YouTube Channel
Now that you have your video, you have to get it online. There are a million and one video hosting sites, and several of them are pretty good. There is still, however, one undisputed king. The one your mom has heard of: YouTube.
Hopefully, you have a YouTube account. If not, create one. But take the time to create a specific channel reserved only for your blog's videos. The skateboarding cat, treadmill fails, and photo collage that your aunt made cannot be mixed in with your blog's videos. When related videos are suggested to your viewers, they should actually be related.
Connect Everything
The idea is to build a network, a brand – one integrated online presence of which your blog is home base. Once your video goes live on YouTube, don't let your YouTube channel stand alone. Make it a link in a bigger, stronger chain by connecting it to your social media accounts. There is an "edit" button on the right-hand side of your YouTube channel. This is the gateway to making your several individual online profiles one, thereby funneling all hits toward your blog.
SEO and Meta Data
With every video, focus on the metadata, keywords, titles, and everything else someone would use to search for the category of whatever your blog represents. Once your Twitter, Facebook, Google+, blog, and YouTube channel all share the same SEO material, you're on your way to awesome search engine rankings – and, therefore, visitors to your blog.
Making a good video isn't enough – harness social media to drive traffic to your blog.
Making a good video is a skill and an art, but so is marketing your video to make it pay. There is no doubt, however, that a single quality video can break your blog out of its mundane routine and help it separate itself from the pack.